Ergonomic Design: The key behind creating such a topper is through careful ergonomic design. To create the most supportive mattress - one that offers comfort to all points on the body in an even way - the memory foam spring was designed into five different zones. Some zones offer more immediate support while others are softer and more enveloping, so that your neck, spine, back and even your legs are given the right amount of relief or pressure needed to get a restful night's sleep.
Breathable & Noiseless: The front side of the cover is crafted using bamboo which is known for being extremely breathable, soft to the touch, and temperature adaptable depending upon the season. The unique cylinder shape pieces allow more air flow into the bed topper, making it far more breathable and cool. Unlike traditional spring mattress, the "springs" in this topper's case are made of premium memory foam, the mattress topper is noiseless and comforting throughout the night.
Prolong Mattress Life: A topper can protect the mattress and prolong its life. For an old mattress, Our 4 inch memory foam topper can bring new life to it and help you get rid of the uncomfortable bed without spending high replacement costs. Our Oeko-Tex certified mattress topper adds extra plushness and softens to firm mattresses.
Multi-Layered Memory Foam: Bedsure Mattress Topper uses three different layers of material. The first layer is constructed using high-quality memory foam, so that your body is firmly supported at all points. This second layer is formed with cylinder-shaped memory foam springs that create the same layout as traditional springs would, but in supportive memory foam form. The third layer is made with standard foam, to act as a solid foundation for the layers above it.
Removable & Washable Cover: Queen Size: 60X80X4", With the high-quality zipper, the cover can be easily zipped off and washed. Please follow care instructions when laundering the cover. Machine washes in the gentle cycle with cold water separately. Air dry or tumble dry on low heat. Warm Tips: Simply allow the compressed memory foam mattress topper king to fully expand for 24-48 hours and dissipate the slight new foam smell.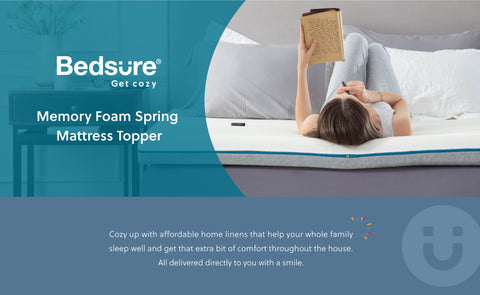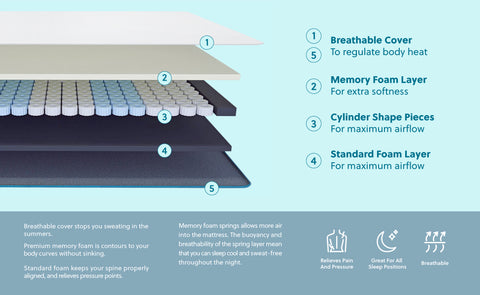 Ventilated Design
The unique design allows air to fill between the two foam layer, reducing the temperature to a certain extent.




SUITABLE FOR ALL SLEEPING POSITIONS
No matter how you sleep, you can always find a properly balanced sleeping position on this mattress topper.




270-342 Memory Foam Springs
The memory foam spring is divided into different parts to provide different supports to meet the needs of human body parts.




EASY TO CARE
The cover can be easily zipped off and be washed in a washing machine.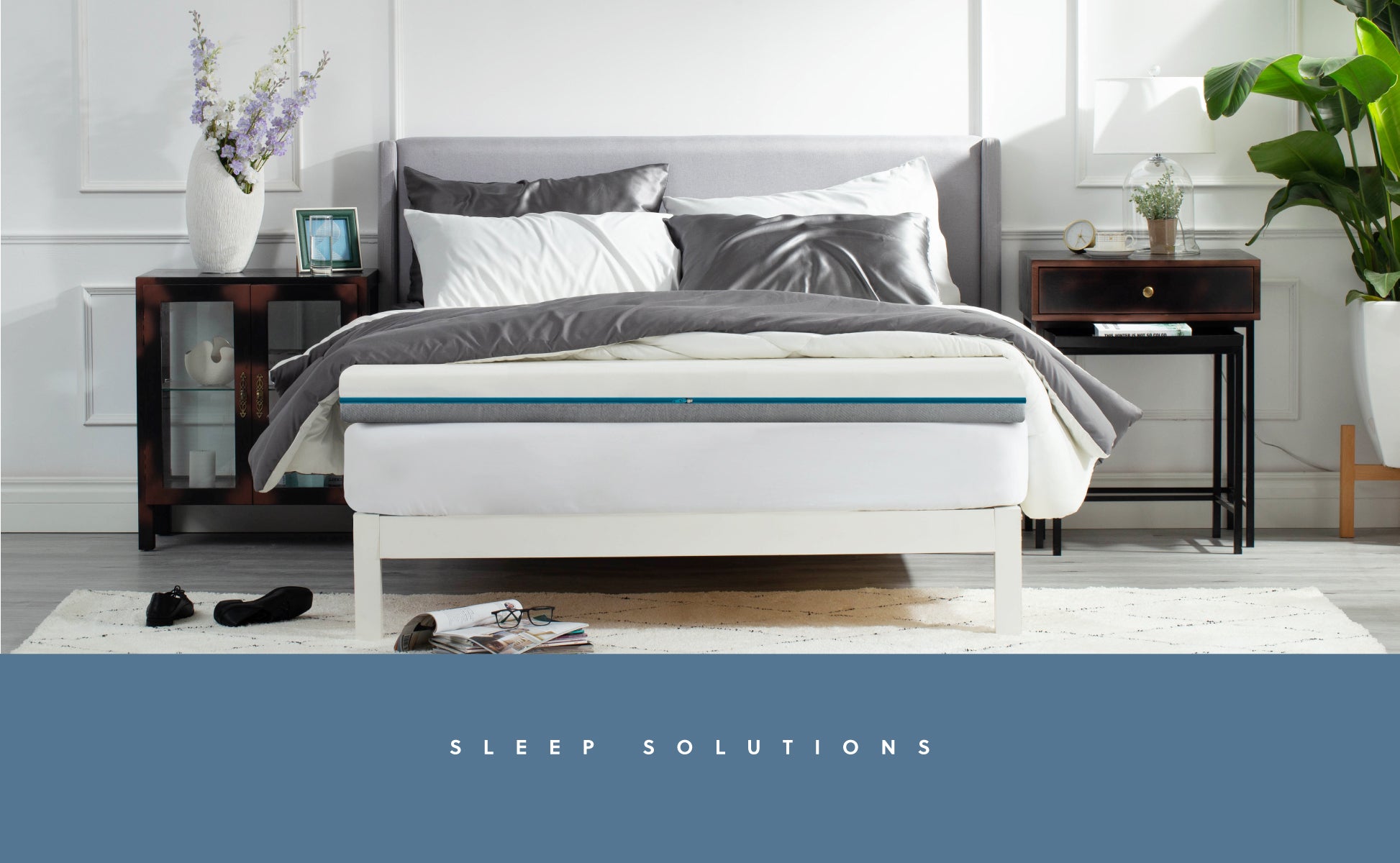 Setting this topper apart from most available on the market is its hybrid of traditional memory foam and spring mattress design. Traditional memory foam is known for its plush softness and support and traditional spring is breathable. Bedsure mattress topper combines the both advantages of these two materials and avoid the disadvantages. This topper embodies an extremely supportive core thanks to the different types of foam used throughout, but the second layer cylinder pieces create a more lightweight, breathable and noiseless sleeping experience