Bedsure, the leading home linen brand, has recently launched its brand new Memory Foam Contour Pillow. Featuring both a cool ice silk side and a warm plush polyester side, the pillow provides unmatched support to your head and neck at a comfortable temperature all year round. No need to flip your pillow all night to keep cool or change your sleep position constantly to relieve neck pain.
Ergonomic Design
This memory foam contour pillow is ergonomically designed with 4.69 inches at the low contour and 5 inches at the high contour to accommodate the specific curves of your body for a more restful and comfortable sleep.
The pillow is also designed using premium quality memory foam to ensure a deep and slow sink that firmly supports your head, neck, and spine at the same time. 
Reversible Contour and Flat Side
The pillow is double-sided with different forms to suit different sleepers. The standard side is combined with the contoured side to accommodate the specific curve of any type of body and sleep position. On the other face of the pillow is a flat yet supportive side, which keeps your neck aligned in a neutral position, making it more suitable for stomach sleepers.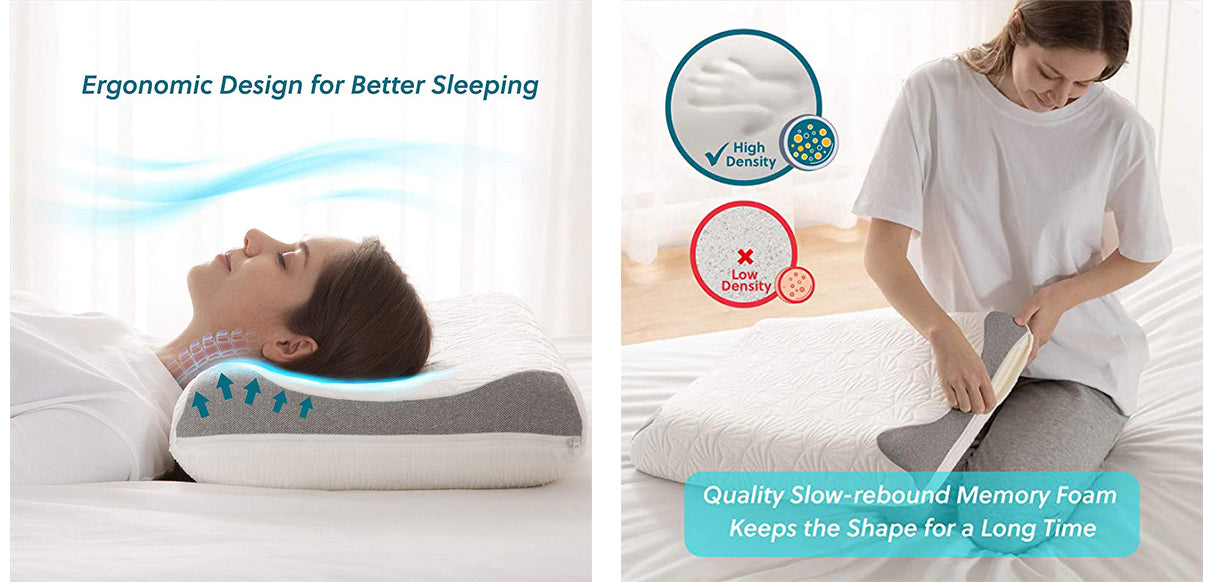 Cool and Breathable Covero
Ice silk is used on one side of the cover. This fabric not only creates a cool-to-the-touch skin contact, it's also breathable enough to disperse heat and promote airflow, keeping you cool all night long. 
The warm plush polyester material is used on the pillow's flip side and is designed to cater to all types of sleepers year-round. The pillowcase is easily removable and can be flipped over to the warm side when colder months approach

The new reversible pillow from Bedsure gives you the best of both worlds: it's designed to relieve neck pain for all sleeper types as well as regulate your temperature all year round
Bedsure memory foam pillow is suitable for all seasons. The ice silk side stays cool in summer to create a cool-to-touch skin contact. The plush polyester side is super soft when you touch it. You can easily remove the pillowcase and flip it over to the other side in the winter. You can sleep well at the right temperature



Ergonomic Design

Our pillow core is made of high-quality memory foam to give our neck proper support with 5 inches loft. It has two alternative supports to meet different demands. If you are suffering neck pain, it would be the best choice to help align the spine.




Removable & Washable

Removable and machine washable pillow cover with high-quality zipper eases your daily laundry. But please, do not wash the filling with the washing machine. You can pat the filling gently to clean the dust.




Care Instructions

Unroll the pillow and leave it in the air for 24 hours until it bounces back. In case you experience an odor which is a "Fresh Foam" odor. It should dissipate within a day or two.