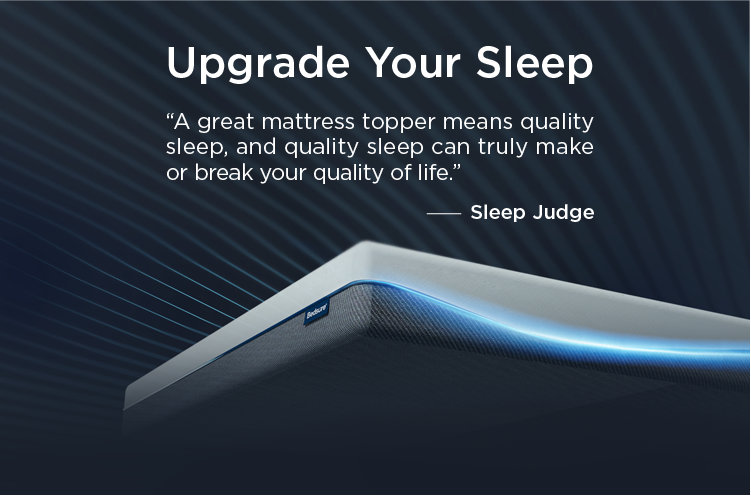 For Mattresses Too Flat
4 Inch S-Curve Memory Foam Mattress Topper
FIRMNESS

BREATHABILITY

FROM $143.99
SHOP NOW
5.0 out of 5 stars Enhanced sleeping experience
I have chronic back pain from partially crushing my lumbar spine. This topper is dozens of times better than the 4" "memory foam" toppers I've tried that have shredded within 4 months. For the first time in almost two decades, I can sleep on my back! It's rather firm, but feels great after a week or so getting used to it.
Joel Brown
SEE ALL REVIEWS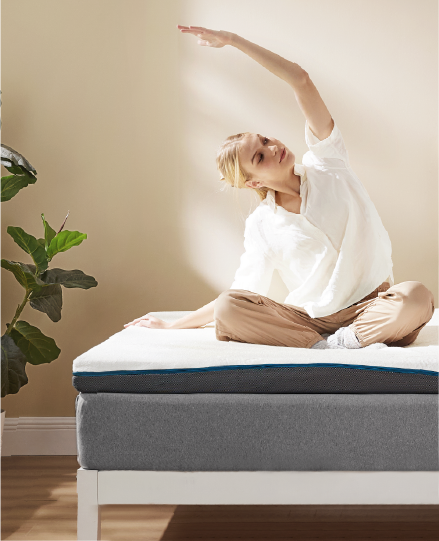 Great to relieve lower back pain.
I tried it out for 5 nights and it's AMAZING!!! One of the main attractors for me was the S-curve with ergonomic design. This keeps me aligned so there's no pressure on my hip, which then causes the lower back pain. It contours to my body no matter what position I sleep in. I slept better than I have in years and woke up with no back stiffness or pain.
The OG Elf
SEE ALL REVIEWS
Saved me from my back pain.
It touches comfortable and soft. When I lay down on it, it will hold my back and keep it in a natural and comfortable curve. I don't feel much pressure on my skin probably because of the Memory Foam. It is an amazing experience to close the eyes and feel the foam gradually wrapping you.
YinX
SEE ALL REVIEWS
For Mattresses Too Stifling
4 Inch Bamboo Memory Foam Mattress Topper
FIRMNESS
BREATHABILITY
FROM $143.99
SHOP NOW
Been sleeping like a baby
I put this on an inexpensive mattress. I was shocked on how great it is. Spending under $200.00 to make my bed feel like it cost thousands is unbelievable!
Marianna
SEE ALL REVIEWS
Quality mattress topper!
This was packaged securely, did not have an odor when opened and is SO comfortable. It can turn any bed into a great night's sleep. I am very happy with this purchase.
Alexis
SEE ALL REVIEWS
WOW, JUST WOW...
Words can't describe how much I love this mattress topper. I've recently changed all my sheets and blankets to bamboo, and it makes such a difference, so adding this as well improved my sleeping situation even more! So much cooler and my bed feels like a hotel room's bed !
Joel Brown
SEE ALL REVIEWS
For Mattresses Too Soft or Too Firm
4 Inch Triple Layer Memory Foam Mattress Topper
FIRMNESS
BREATHABILITY
FROM $167.99
SHOP NOW
Best bedding purchase I've ever made.
It arrived ahead of schedule, was perfect right out of the box. I followed the directions of letting it get to room temperature before unrolling it. (We live in Michigan.) That night and every night since, I've had a wonderful, pain-free sleep. My only negative about this topper is that now, I don't want to get out of bed!
rcrow
SEE ALL REVIEWS
Awesome sleep!
I sleep 100% better, I'm not sore when I get up, I wake up less, I don't toss and turn, it's like sleeping on a cloud. I would definitely recommend this to anyone, plus it's much cheaper than a lot found in store.
Jeff Doss
SEE ALL REVIEWS
Comfy, cushy, ahhhhhhhh
It is so good i had to invest in one for my kids bed!The dog even wants my bed.My family compliments me all the time and ask what type of mattress i buy.Its not the mattress-it's the foam pad!I have firm mattresses. The foam makes it perfect and a great nights sleep.
Kenn K
SEE ALL REVIEWS