Excellent Cold Resistance: Wearable blanket is made of plush microfiber and fluffy sherpa, which can provide you with excellent warmth. The elastic sleeves of the hooded blanket can be pushed up and stay, which is pretty handy when you are eating or doing housework.
Wander Around Freely: Hooded blanket of reasonable length will keep you warm without dragging to the ground and getting dirty. A little roomier when compared to an ordinary sweatshirt, so you can curl up your body and lift the legs to tuck the sweatshirt blanket under the heels.
Embrace Warmth Anywhere: Blanket sweatshirt keeps you warm and comfortable when you are resting at sofa watching TV or working on a laptop. You can also take the blanket hooded to an outdoor barbecue, camping or picnic.
Huge Hood & Deep Pockets: Big hood of wearable blanket keeps your head and neck warm and doubles as a pillow for lying down. Two deep pockets are equipped for store snacks, phone or remote control. Blanket sweatshirt will not be as restrictive as home clothes. 
Available for Whole Family: Equipped with kids, standard, oversized size, the wearable blankets are very suitable for a family. You can choose different colors and styles of blanket hooded according to your preferences. It is both a piece of clothing and a blanket.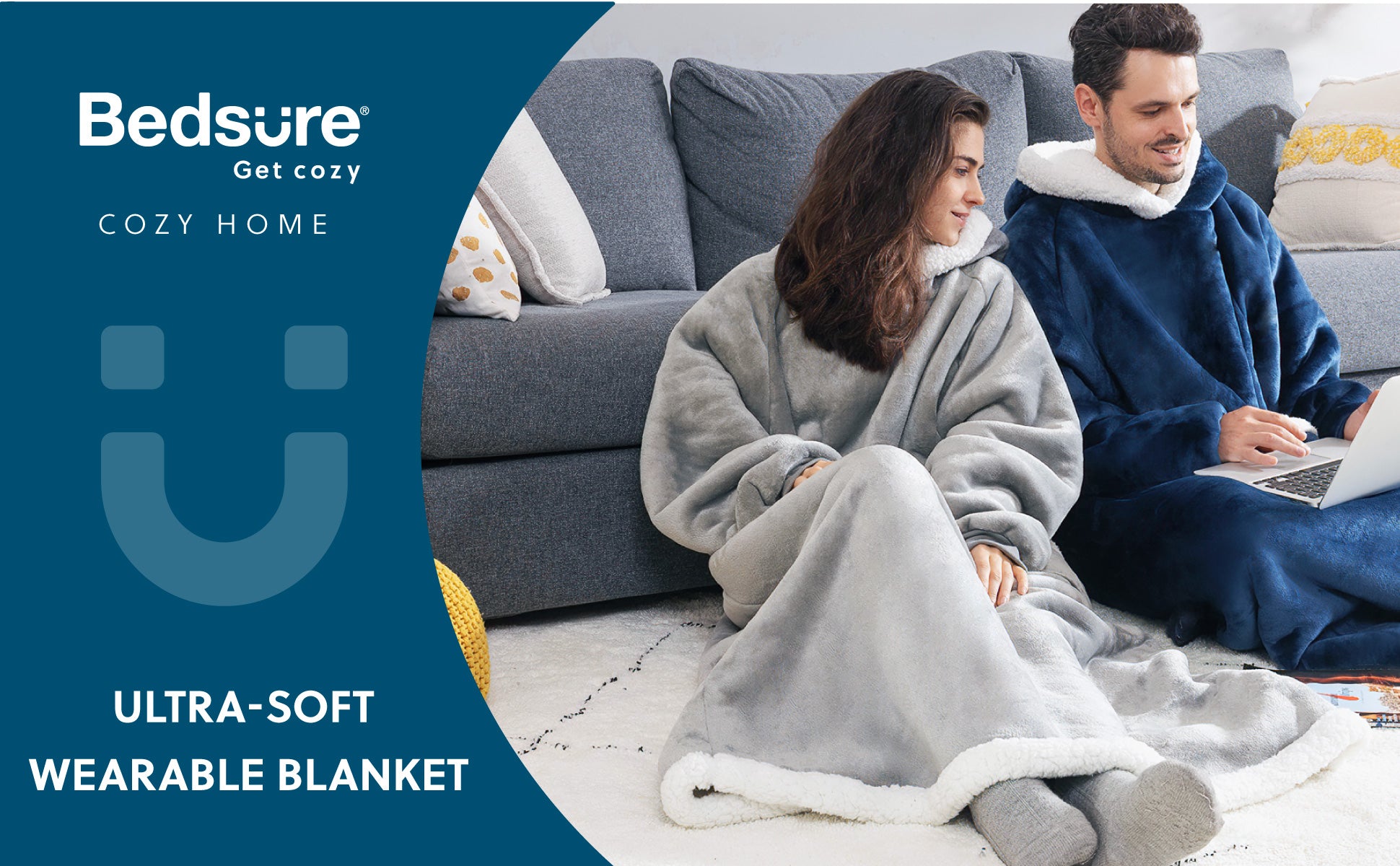 Cozy up to home linens everyone in your family will love. We're always dreaming up new ways to help you sleep well and get that extra bit of comfort throughout the day, all made for the way you live, priced for your budget, and delivered directly to you with a smile.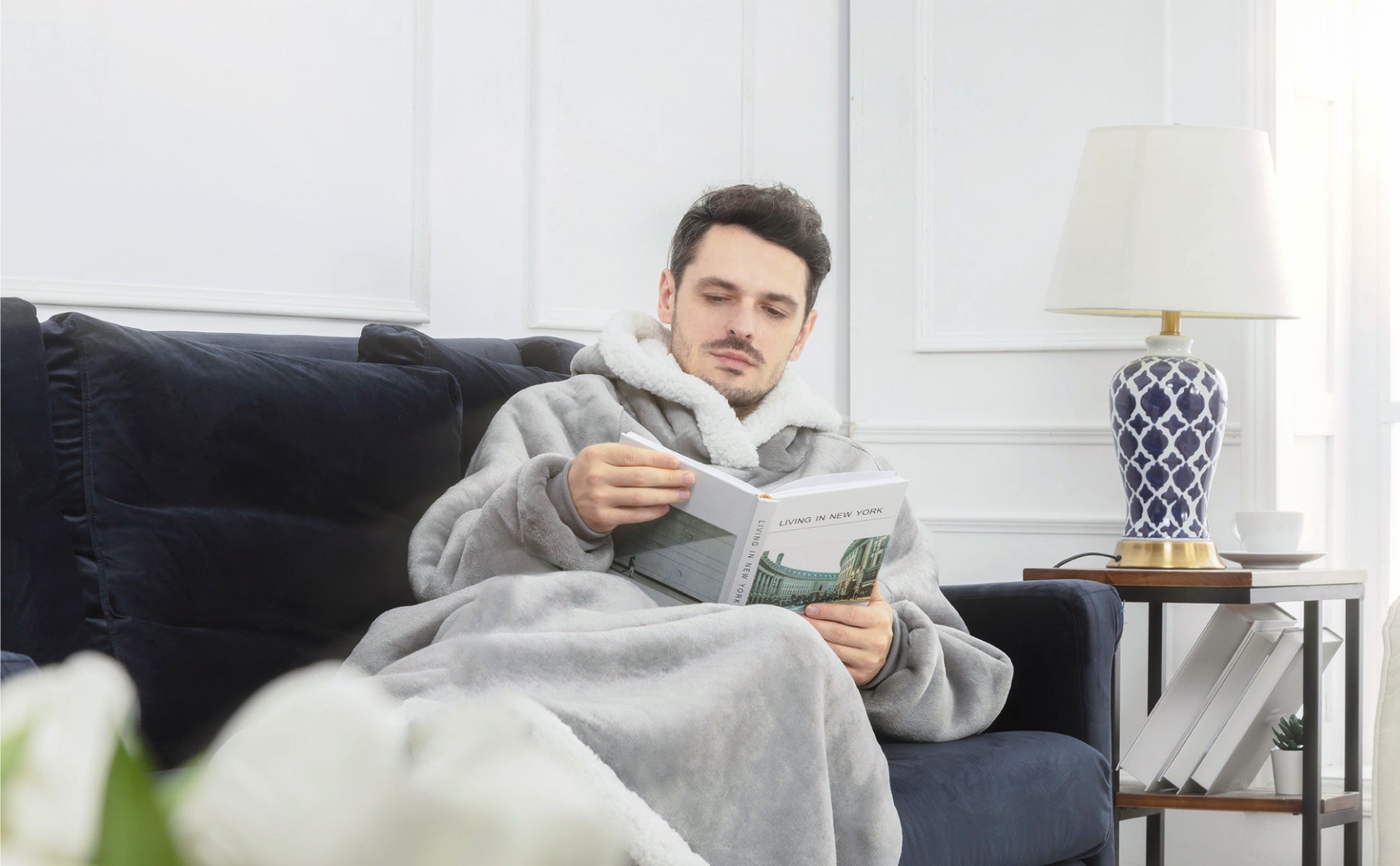 A blanket sweatshirt is both a piece of clothing and a blanket. You can not only wear wearable blankets when watching the TV at home, but also wear blanket sweatshirts for picnics and campfires. The giant hood keeps your head warm, and the wide neck design allows you to dress easily and keep your neck comfortable. The design of the threaded cuffs prevents the biting cold wind from blowing in and allows you to adjust the sleeve length freely. In winter, this is an ideal choice for you and your family to resist the cold.




MUTI SIZE AVAILABLE Standard, oversized size are available for your whole family.




ELASTIC SLEEVES Cuffs are elastically designed to effectively prevent cold air from entering the cuffs.




TWO SIDE POCKETS Blanket hooded has two side pockets to keep your hands warm while storing smartphone.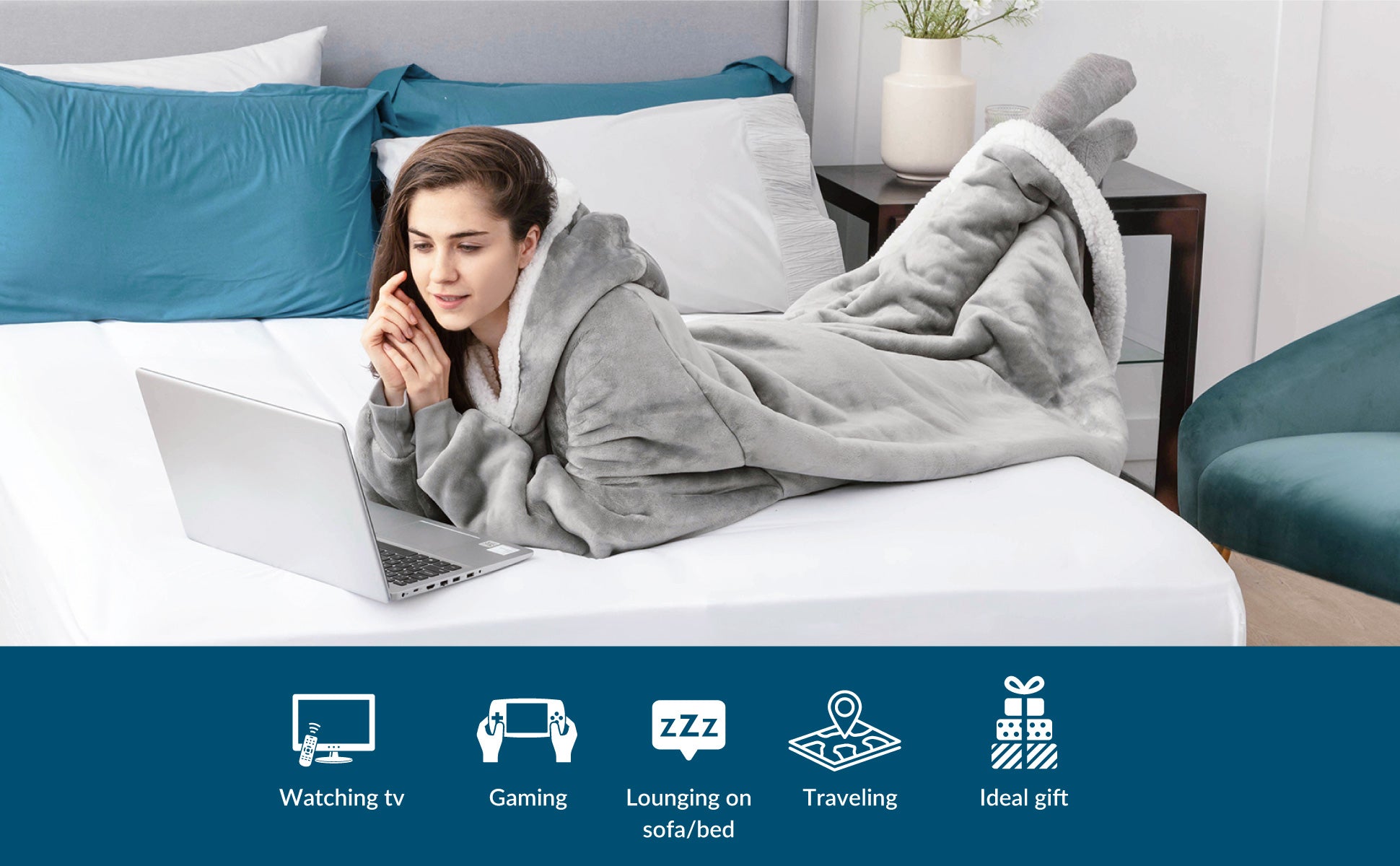 In the tough winter, you may feel lonely and cold. However, once you put on a blanket sweatshirt, you will feel the warmth and peace of mind being embraced. Our wearable sweatshirts are convenient and warm. You can wear a blanket sweatshirt to chat with your family, watch movies or play games. You can also go out with friends outdoors to climb mountains, picnics, campfires and other sports. In winter, this will be one of the indispensable choices for you and your family.