【100% SOFT COTTON】This cozy bedding set features a 100% cotton woven waffle design for its face and 100% cotton percale in white for its reverse. Don't hesitate to take it if you are sensitive skin or allergy sufferers.

【EXQUISITE WAFFLE DESIGN】 You will love it at first sight when you see the solid color with the simple waffle design. The unique weaving technique gives it great elasticity and it does feel soft and cozy to the touch.

【BUTTONS CLOSURE & TIES INSIDE】This duvet cover comes with 8 ties inside which secures your comforter or duvet in the right place.

【EASY TO PUT EASY TO WASH】Cold wash machine. Gentle cycle. Tumble dry low. Do not bleach. No ironing is required. And concerns removed! This duvet cover set won't fade but becomes even softer after every wash!

【3 SIZES AVAILABLE - QUEEN】Bedsure 100% cotton waffle duvet cover full/queen size (90*90)*1 with pillowcases (20*26+2in) *2. Here we reveal your secret to having a good night's sleep and waking up refreshed and energetic!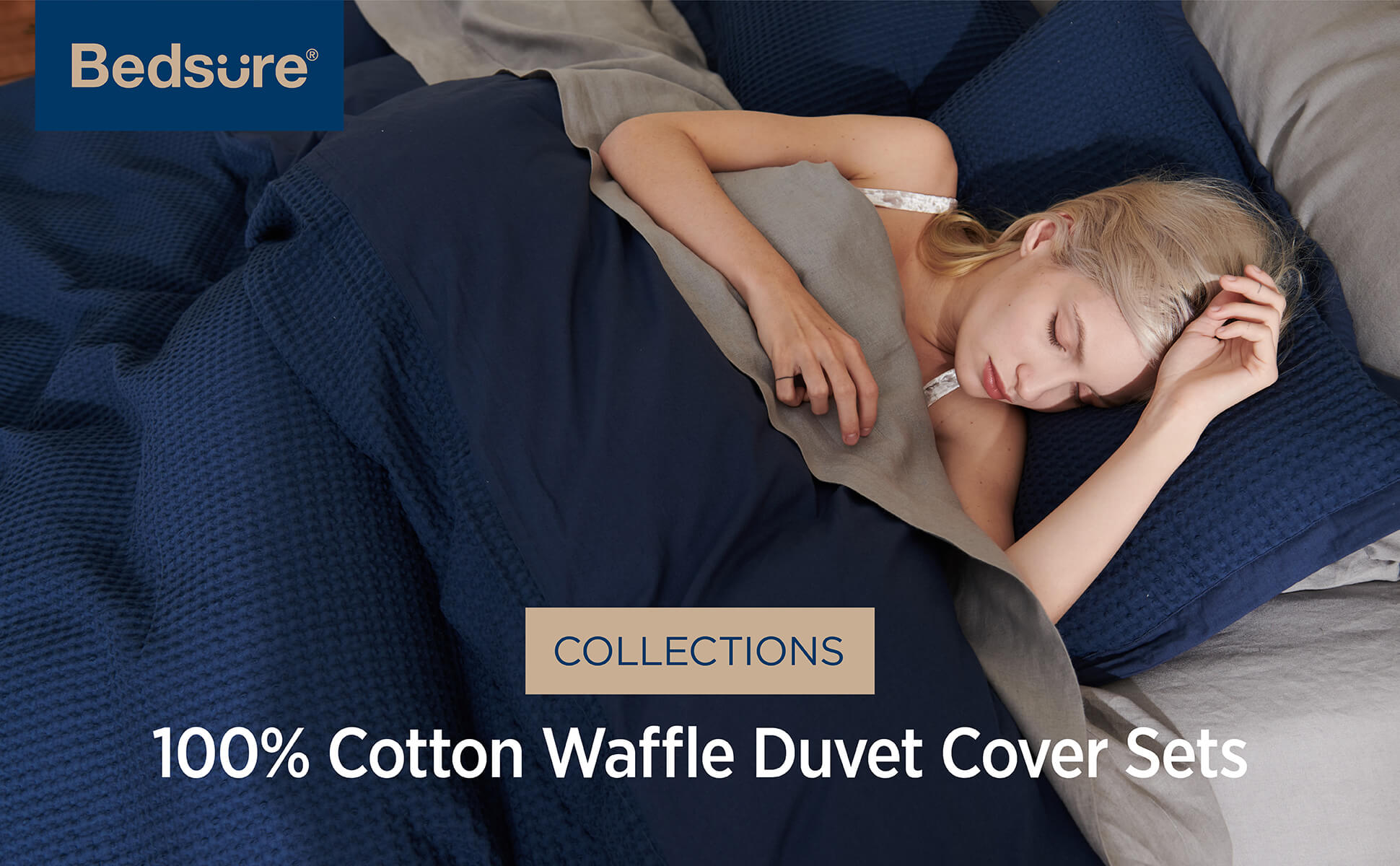 You will definitely love the cover set if you are looking for an ideal way to update your space. Cotton is the most popular choice when it comes in solid navy. Isn't it the perfect match for your pillows or throws? The waffle design is your go-to for temporary and simple bedding and it gives you all the clean, pure and cozy vibes!
The hidden button closure inside the cover makes it more durable and reliable compared with the zipper design. The natural hypoallergenic set is a perfect choice for allergy sufferers. additionally, there are 8 ties inside so that your comforter or duvet will stay securely in place. They're your ideal companion for the best sleep.
Our duvet cover set provides you with a heavenly sleeping experience, so don't be surprised if you sleep through your alarm. And it spans the spectrum of design styles and can find a home anywhere.