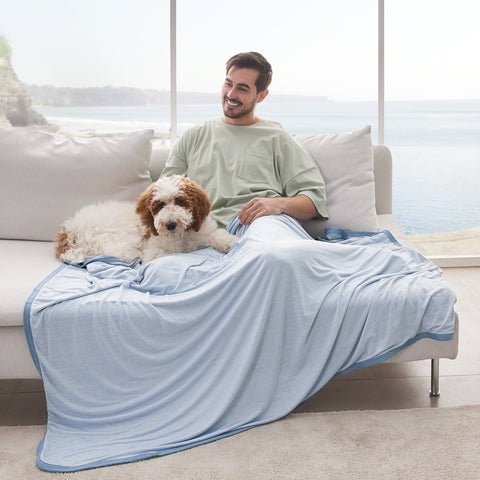 The last couple of years have been challenging for many people in places like the US. Fathers and father figures have provided guidance, support and direction to kids, families, communities and businesses. This Father's Day, let's celebrate and appreciate all they contribute to families, communities and the economy.
While the tradition of appreciating and celebrating fathers has continued since when it first started in 1914, the role of fathers and the work they have done over the years has shifted.
According to National Geographic:
[…] the nature of fatherhood itself has shifted. Most fathers are no longer the sole breadwinners and have become more involved in family life. Today, American fathers spend an average of eight hours a week on childcare—nearly three times as many hours as they did in 1965. However, less than half of American fathers believe they are doing a "very good job" raising their children. 
Celebrating dads, dads-to-be and father figures through family gatherings, food and gifts can help that special man in your life to feel that he has done a good job – especially considering the challenges the men and women have faced, globally.
Along with doing activities, like taking a hike, going out for dinner or going to see live music, giving a Father's Day gift shows the good men in our lives how much they mean to us. Understanding how important good sleep is to mental and physical health, we have come up with 2022 Father's Day gifts to make good sleep easy.
To celebrate dads, dads-to-be and father figures, Bedsure are running a campaign across social media and this website.
We have a range of durable, cozy sheets, pillows, blankets, mattress toppers and other accessories for a bedroom. These sleep solutions will help these men to get the good sleep they deserve.
Many of our Father's Day sleep products are on sale, with discounts up to 30% off.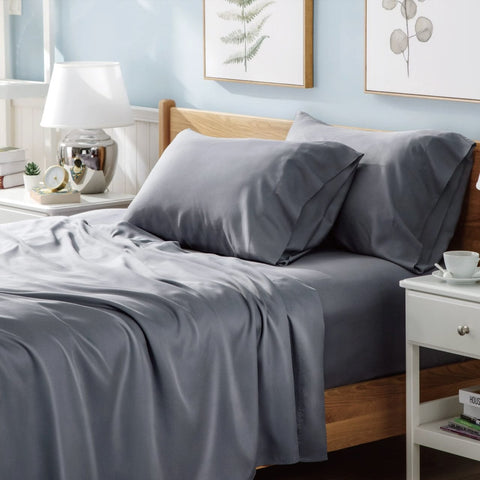 Bamboo Viscose Sheet Set - Photo by Bedsure
Viscose from Bamboo Sheets Set
For men who love a satiny smooth and soft sheet, yet want a more breathable experience than satin, our Bamboo Viscose Sheet Set might just be what the doctor ordered.
Featuring 100% bamboo-derived viscose fabric with a slight sheen, this set includes a fitted sheet, flat sheet and 2 pillowcases. The set comes in a range of sizes, from Twin to California King.
One of our most popular sheet sets, we have expanded the range of colors. We now offer a total of 11 colors. With something for every kind of dad (or father figure), colors range from classic neutral tones like grey, black and white to jewel tones like burgundy, beige and spa blue.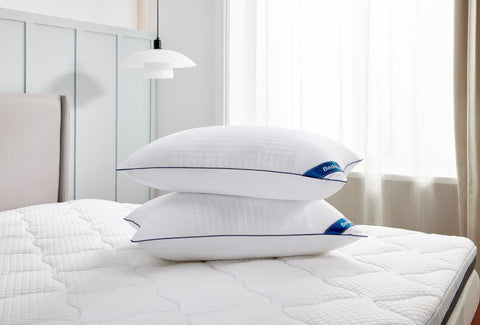 Cooling Pillows - photo by Bedsure
For guys that like a puffy hotel-like pillow and want a more comfortable, breathable experience, our Cooling Pillows work well.
Made from polyester and cotton, these pillows are durable and long-lasting – suitable for even the strongest dads.
A zipper allows inner fill to be taken out to achieve just the right height, if desired.
This set of 2 pillows have special square shapes on the surface, which allow air to flow around, keeping sleepers cozy and comfortable even when it gets hot.
Another standout feature is that these pillows have been tested for harmful substances and met the requirements for Standard 100 by OKEO TEX®.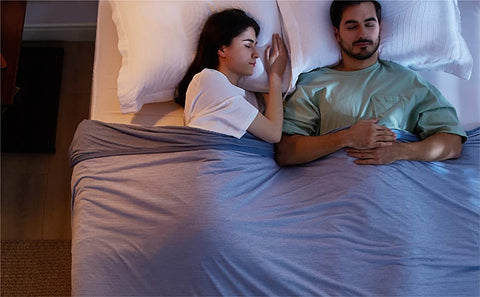 Cooling Blanket - Photo by Bedsure
For dads, dads-to-be and dad-like figures who like staying cool in hot weather, our Cooling Blanket hits the spot.
Special arc-chill technology in the fabric makes for a cooler blanket that can easily move away heat from the body.
Smooth, stitched edges provide extra comfort and durability, so this blanket can last for years.
Being lightweight and available in versatile blue or grey makes a blanket that can be used anywhere in the house or even on a family picnic, or road trip.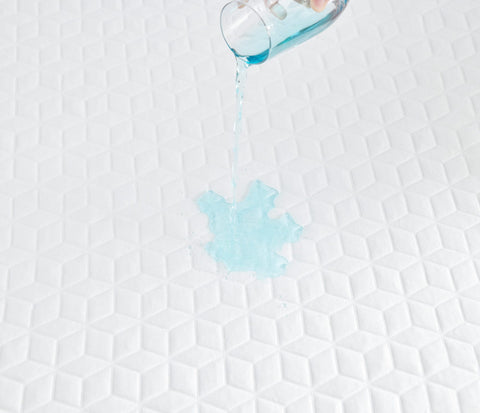 Waterproof Mattress Protector - photo by Bedsure
For guys who love to have some wine in bed or frequently sleep with their dog on the bed, our Waterproof Mattress Protector fits the bill.
This 2-in-1 mattress protector and cover has been made with a waterproof TPU layer as well as a soft and durable polyester and bamboo viscose layer.
Being available in 4 sizes from twin to king ensures that this mattress protector can be used for just about any size dad.
Other features include a convenient zipper for easy cover removal and washing, plus 4 elastic bands that can fit mattresses up to 18 inches deep.
For other gifts for fathers, fathers-to-be and father figures, check out our 2022 Father's Day Gift Guide here.
Header photo by Bedsure